Animal Success Stories
PAWS of Hertford County has adopted out or placed more than 4000 animals since August 2006. Our animals are in good homes all over northeastern North Carolina, west to Raleigh, southeast to New Bern, and as far north as Virginia, Maryland and even New Jersey. We are thrilled to receive updates and pictures from the families of these wonderful cats and dogs. If you would like your new PAWS family member to be posted on our website, please send to pawsofhertfordcounty@yahoo.com.
Click a letter to find an animal or
view all
.
Bella
PAWS' Bella is now Bella Narlis. Bella's family fell immediately in love with her during a rainy PetSmart adoption event. PAWS volunteers are so pleased that our Bella was adopted by a wonderful family. You can tell the picture is of four very happy little girls. Congratulations to Bella - and the Narlis family!
Bodie, now Brodie
Stephanie writes the story of Brodie's storybook adoption: "First, I want to say that Brodie is adopted b/c of Julie. At PAWS Univ, Julie and I went out early to take pics. As you all know, we have "brown-dog society" out back. For some reason, Julie spotted "Bodie" and said "Lets take pics of this dog". From that point, we all saw that he was a special boy. He was neutered, vaccinated then went to Petsmart on Saturday. Samantha and her Mom saw him and it was love at first sight. She has 5 cats at home, so we tested Hobie (on a leash) with Bodie. And, Bodie went nose to nose and wagged his tail. Her Mom was amazed. Bodie, now Brodie, went home shortly after. Samantha works with autistic children. She loves her job! This week she is going to look into therapy dog training for Brodie so that he can go to work with her. She goes to Emerald Isle every other weekend and so will Brodie. We talked through facebook this morning. Brodie worked in the yard yesterday, doesn't mind the cats and loves riding in the car. What a great life for this plain, brown dog. I personally think that this life awaits all our plain, brown dogs. This life awaits our black dogs, our bulldogs, our shy dogs. And if PAWS does not find this life for them its because we are not trying hard enough. There is a Brodie inside every dog. Thank You Julie for making eye contact and "seeing" Brodie."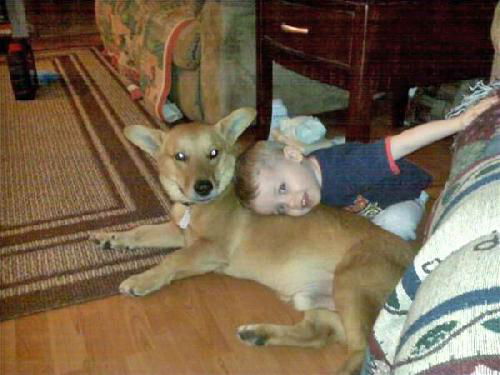 Barney
Barney's new family writes, "Good Morning, He is doing very well! It didn't take him long to get adjusted. We gave him a bath after I talked to you yesterday. Wow, that was interesting. He's a little harder to keep in the tub than a Yorkie! haha. It took both of us to keep him in there. He's such a sweet boy. He's been wondering with Jace and our little dog. Jace goes up and pets him and Barney will give him some kisses. It's pretty sweet. Last night was pretty interesting to say the least! We put his big pillow in the crate and put him in there last night. He would cry and yelp and Rob would go in there and say, Barney NO, and he would stop. It only took 3 times and then he was fine. I just didn't want him to wake Jace up with his loud, deep bark! He didn't potty in the crate or anything. He started barking at 6:30 this morning so Rob took him out to potty. So he slept all night until 6:30. He's in a loving and wonderful home!"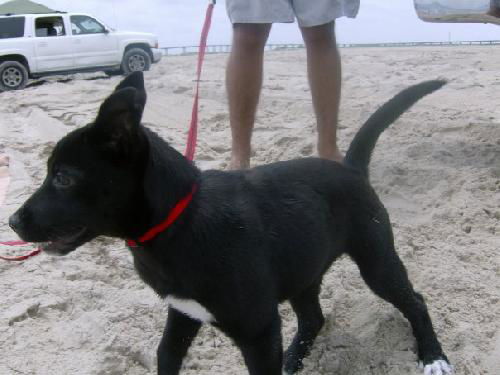 Brandy
"Hello...My name is Christina. I adopted a puppy last Saturday for my boyfriend Doug. He and I LOVE her! She was the black and white mixed breed puppy. We named her Brandy and she is very happy. We have since taken her to the beach...she is a little afraid of the water, but really loved digging in the sand. She loves playing with her toys and eats every chance she gets. I have taken her to the vet, where they said she is worm free and very healthy. YAY!!! She has another, follow-up, appointment Aug 1oth. Thank you guys so much for helping us to adopt the best puppy in the world. She will be in our lives for the rest of hers. Thanks again." Christina and Doug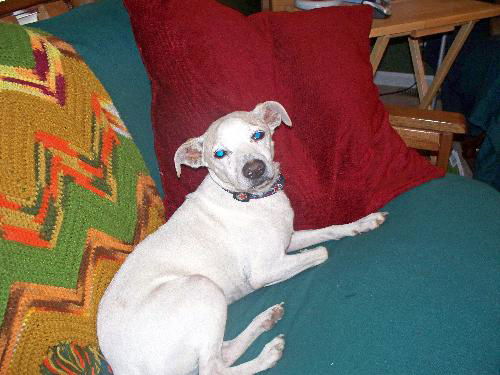 Barney
"Sorry it has taken me a while to email. Barney is doing wonderful! He is a wonderful house dog, but also enjoys and has found his place with the two bigger dogs outside. We adopted Barney on a Saturday, he seemed so sad at the shelter, you could tell he wanted a family. He perked up some when we brought him home, but would scream (not howl) when we had to leave him to go to the store or run errands. He was so scared to be left. The vet said that his hair loss and bad teeth were just from malnutrition. We found a high calorie canned dog food that he loved and got him eating. His hair has grown back on his belly and ears. His teeth have strengthened and he is a health happy dog. As a matter of fact while I am typing this he is playing chase with my kids through the house. He has learned that even when we leave, we always come back so the screams has been replaced with disapproving barks. He is a great dog and a wonderful addition to our family." Thank You Samantha Cushing
Click a letter to find an animal or
view all
.