Animal Success Stories
PAWS of Hertford County has adopted out or placed more than 4000 animals since August 2006. Our animals are in good homes all over northeastern North Carolina, west to Raleigh, southeast to New Bern, and as far north as Virginia, Maryland and even New Jersey. We are thrilled to receive updates and pictures from the families of these wonderful cats and dogs. If you would like your new PAWS family member to be posted on our website, please send to pawsofhertfordcounty@yahoo.com.
Click a letter to find an animal or
view all
.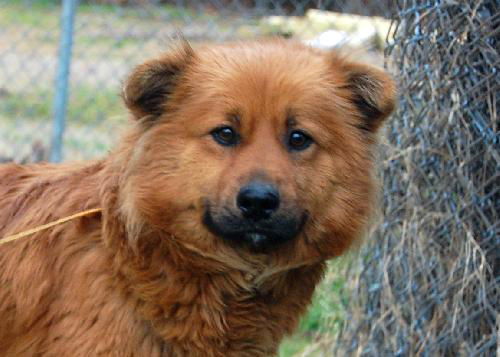 Autumn, now Keela
This little girl couldn't have been a better fit for us! She rides like a champ in the truck and it didn't take her long to settle in here at home! She found out that treats are a very good thing and has quickly mastered the art of sitting for them! She's still not sure about the pretty dog she found in the mirror though and she studies her often. She even played with her new pet monkey and slept all night on her new bed. I just wanted to thank you and your staff for what you do for these precious animals, it takes a very special person to do what you do! We will see you May 14th; Kevin, Kelley & Keela Murray
Aslan, now Simon
I would like to update you about the kitten I adopted in May of this year (2010). When I adopted him (about 5 weeks old) he was named Aslan. We changed his name to Simon. We had him neutered in August. He did great! At that visit we also had the rabies and cat leukemia shot administered. We returned 3 weeks later for the followup on the leukemia shot. The vet said he was very healthy and weighed 7 lbs. We enjoy him so much! He is a lot of fun and a pure delight. Thank you for allowing us to adopt Simon. He is one spoiled cat but definitely my best buddy. I am including a picture of him that is about 2 months old now. He is bigger now and even more spoiled. (Kay V.)
Alice
"Hi Ann, Just wanted to let you know how Alice is adjusting to her new home. The first night she spent the whole night in my daughter's bedroom, cuddled up to her. The next day she explored the house and has found at least 4 hiding places. But I think her favorite place is sitting on the back of the couch. I've attached some pictures so you can see how comfortable she is. She is hungry for attention always in our lap looking for a rub or cuddling up to our faces. She has found her forever home. Thank you so much for everything you did to make this happen. I didn't realize how much I missed having a cat around until she came home with us. God bless," Royale Carson
Annie, now Maggie
Wes Huggins of Apex writes: "Maggie is doing well, has acclimated herself to her surroundings, and is immediately loved by everyone she meets. She's simply a delight to have with and around me! As I write this, she's laying down right behind me in my office (which is where Shadow used to lay during the day). It's nice to have 'company' with me again. She's doing quite well on the leash, though she does want to get from point A to point B a little faster than me. However, she is smart as a tack and has learned so much in the 20 days or so since she came home with me. She wants to please and doesn't have a mean bone in her body which, by the way, has grown in the last 20 days as well."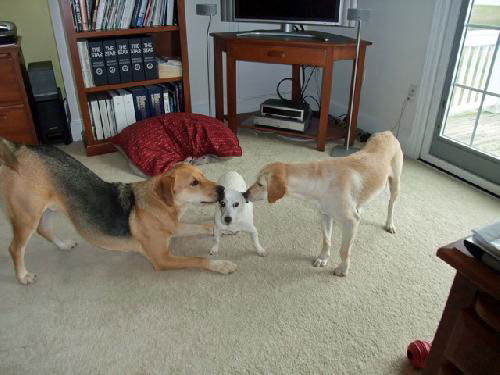 Angel, now Penny
The O'Neill family does it again! Last year, they drove a long distance to find a beautiful Lab/Shepherd mix named Sawyer who had waited at the shelter for many months until the best family imaginable came along. And they have just adopted Angel, a courtesy listing for PAWS' friends at the Isle of Wight Humane Society. Together with the O'Neills' resident Jack Russell, Luke, this is an altogether elated doggie trio. The O'Neills write: "Betty, It was good to speak with you last week. Thanks for your patience with our change of plans to visit with Kim to see Angel. I noticed you have removed Angel from your site. That is the correct decision, since Angel (renamed Penny, after the character "Penny Lane" in the movie "Almost Famous") has adjusted extremely well and has become immediate, fast friends with Simon (formerly Sawyer from your shelter) and our old JR, Luke. Incredible how they were big buddies after 1 day. Both your operations are doing a wonderful job. Please drop by and see your foster children when you have a moment. Well that's the 2009 rescue program. Caitlin's annual contribution to help abused animals (although we've told her NO more ;-). The magic touch of the ladies at Paws of Hertford County and associates (IOWCHS) have brought hope for the animals and lots of joy to the lucky adopters." Best regards, Gary & Maria O'Neill
Click a letter to find an animal or
view all
.